The Much Awaited ALLU ARJUN's Duvvada Jagannadham songs are out now. The expectations are sky-high as Duvvada Jagannadham have two crazy combos.(Allu Arjun-DSP,Harish Shankar-DSP.)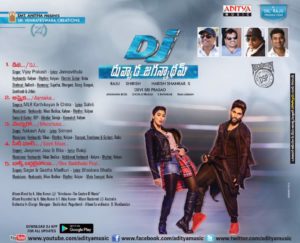 DJ SHARANAM :
DJ Sharanam is intro song of the film.There are no female singers and only Vijay Prakash has sung it.A Mix of Traditional and Modern Forms of music with good beats and apt lyrics by Jonnavithula makes DJ SHARANAM a good one.
2. GUDILO BADILO :
Good Tune by DSP. MLR Karthikeyan and our very own Chitra has sung it very well.The icing on the cake is lyrics by Sahithi which beautifully explains the romance between hero and heroine with poetic metaphors. GUDILO BADILO is the best song of the album.
3. MECCHUKO :
MECCHUKO is easily the weakest song of the album. A bad tune by DSP with too many beats and okay lyrics by Srimani makes MECCHUKO the weakest song of the album.
4. SEETI MAAR :
SEETI MAAR is better compared to MECCHUKO with catchy lyrics like "NTR ANR MEGASTAR..NINNU CHUSTHE VIJILESTHAR".An Average tune by DSP with Jaspreez Jazz and Rita's Vocals and good lyrics by  Balaji.Hope ALLU ARJUN will compensate for this bad tune with his    good dances on-screen.
5. BOX BADDALAIPOYE :
Seems like BOX BADDALAIPOYE is the last song of the movie. Again this is an average song considering previous track record of DSP.Sagar and Geetha Madhuri has done a good job and okayish lyrics by BhaskaraBhatla. People might like it after repeated listening.
VERDICT :
Duvvada Jagannadham is a below average album considering previous track records of Allu-Arjun-DSP,Harish Shankar-DSP Combos.
RATING :  2.25/5