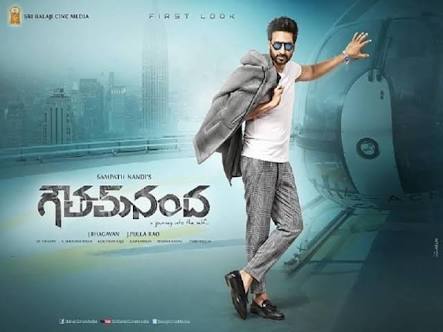 GAUTAM NANDA Starring Gopichand, Hansika and Catherina Teresa in Lead Roles, Music by SS Thaman in Direction of Sampath Nandi has released today. Here is GAUTAM NANDA REVIEW.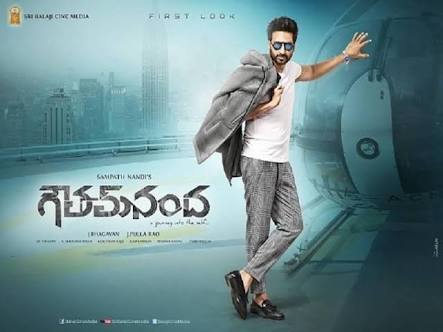 PLOT :
The plot line of the movie is "Dhanam Moolam Idam jagath" which means the whole world revolves around Money.The Story starts with depicting lavish life of Gautam Ghattamaneni,the only son of the owner of G Group of Industries. Gautam will be on World Tour and will be enjoying his life to the core as his father says so because Gautam will be made Chairman of G Group in few days and he won't have time to enjoy once he becomes chairman. Mugdha is his girlfriend who is a daughter of Gautam Dad's Friend who also works in G Group of Companies. One day Gautam goes for Party and Tanikella Bharani who is a waiter, spills some drink on Gautam. Gautam will slap him and asks him who is he? Does he know about Gautam's Background. Tanikella Bharani, in return tells He is a Waiter..But who are you? Do you have any identify? Is the son of Owner of G Group of Companies is your Identity? This changes Gautam's mindset and he goes in a car in high speed in search of his identity. Thats when he will hit a person(Nanda) onn Road and Shockingly, he looks exactly the same as Gautam. Then, Gautam asks Nanda whereabouts and Nanda will narrate his poor Background,about his girlfriend (Hansika) and why he wants to commit suicide. Gautam never had any feelings and emotions and he never experienced happiness and sadness as he is born with Silver Spoon. Then,Gautam asks for Character Swap and Gautam goes to Nanda's House and Nanda goes to Gautam's House. Nanda who is very poor when he his born will get addicted to money and refuse to come back to his original home. The Rest of story is how Gautam brings Nanda out of his house and teaches him a lesson that Money is Not Everything.
PERFORMANCES :
Gopichand has done exceptionally well in dual role and my favourite is Nanda Role which is a grey character with negative shades. Hansika has done justice to her role. Catherine Teresa is hot and is sure to attract the mass audience and has given good performance. Comedians Vennela Kishore, Chalaki Chanti has made the audience laugh. Bithiri Sathi is icing on the cake with his typical humour touch. All character artists have done enough justice to their roles.
TECHNICAL DEPARTMENT :
Sampath Nandi has done a good job as till the interval the story seems like another routine Telugu Movie. But, the Twists and Turns in 2 nd half with good screen play makes it much more interesting. Terrific work by Cameraman Soundar Rajan. Boleram Song visuals are stunning.Music Director SS Thaman has done exceptionally well with chartbuster songs and Scene Elevating BGM. Rain Fight BGM in 2 nd half will be one of the highlights.
On the downside, Audience might get bored in Starting of 2nd half which was compensated later. CG and Graphics could had been done better. Editing could have been much more crisp.
VERDICT :
GautamNanda is a complete package which will cater to all the categories of audience and will make a good watch for this weekend.
RATING : 3/5
Read out my Review of AmiThumi.