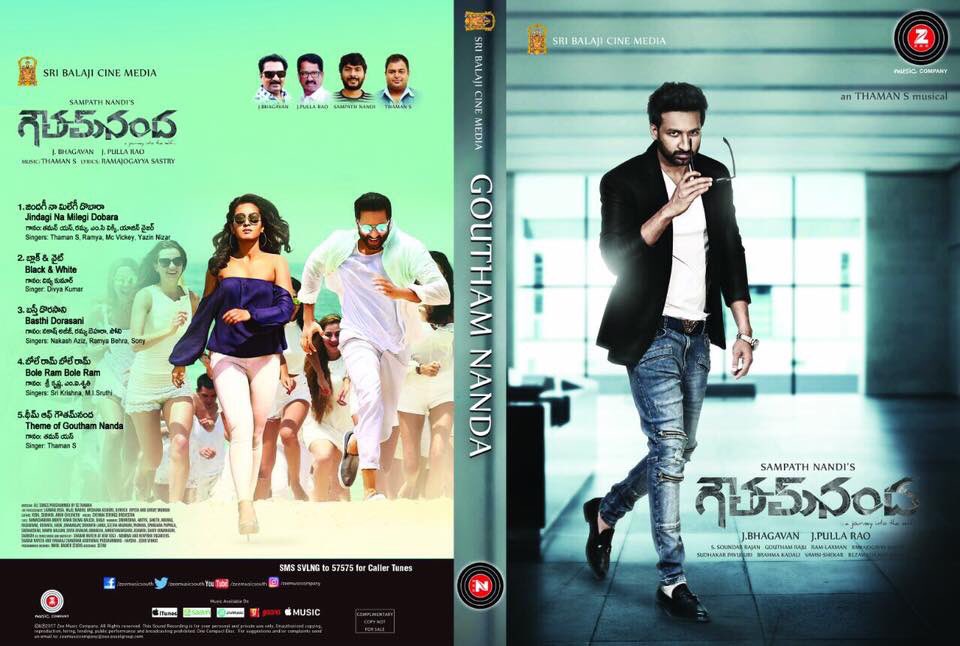 Much awaited Songs of Stylish Entertainer GAUTHAM NANDA – A Gopichand and Hansika Starrer in direction of Sampath Nandi and music direction of SS THAMAN are out now.The album has 4 songs and a Theme song. Ramajogaiah Sastry has written lyrics for all the songs.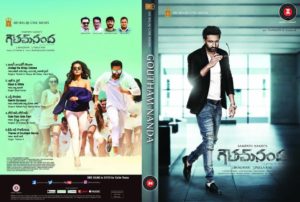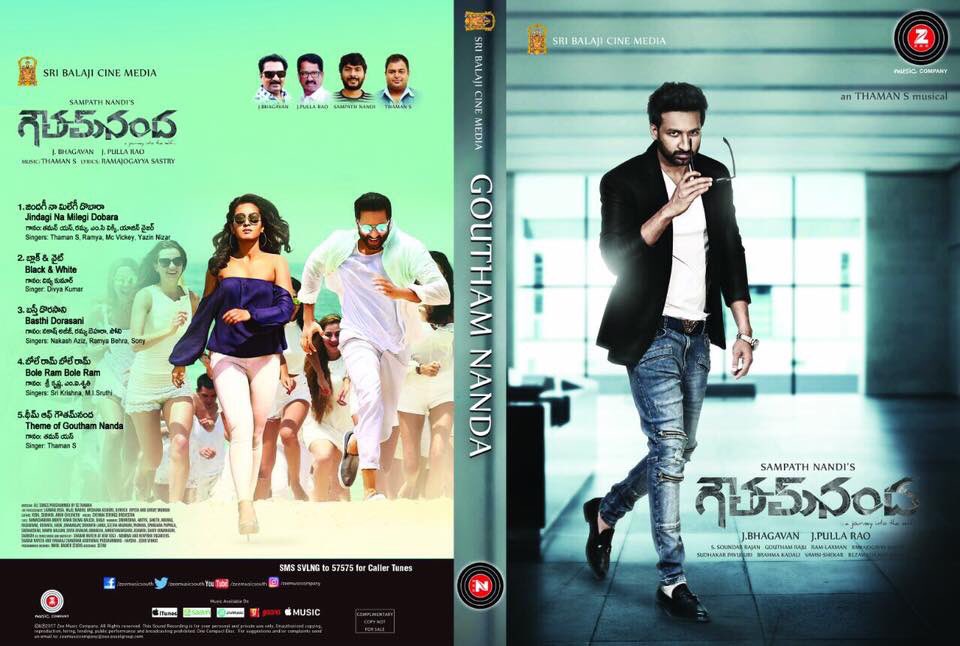 ZINDAGI NA MILEGI DOBARA :  
Zindagi Na Milegi Dobara is the title song of the album. This song is such a lengthy one with duration of 6 min 3 secs but wont bore you for a single second. Zindagi Na Milegi Dobara proves once again why Thaman is the best programmer of the current generation musicians of TFI. Thaman, Yazin Nazar, N.S.K Ramya and MC Vickey has sung it very well. Trendy and catchy lyrics  by Ramjo and Neeraja Kona is icing on the cake.
2. BOLE RAM BOLE RAM : 
BOLE RAM BOLE RAM is a superb sweet melody and one will surely like this song in first hearing itself. SriKrishna and Sruthi has sung it beautifully. Catchy and Meaningful lyrics by Ramjo is a great addition to this song. Bole Ram Bole Ram is one of the most beautiful melodies composed by Thaman after "Nuvve Nuvve" from Kick 2.
3. BLACK AND WHITE : 
How can we call it a music album of Thaman if there is not a oora mass song ? Black and White is a oora mass song with typical drums beats by Thaman. Divya Kumar has done enough justice to the song and this song will surely become the favourite of audience after repeated hearings.
4. BASTHI DORASANI :
Basthi Dorasani starts as a classical song with Ramadasu Keerthana "Paluke Bangaramaayane" and changes into a typical mass song with lyrics "O Basthi Dorasani..Basamthi Biryani". Nakash Aziz, Ramya Behera, Sony has sung it nicely. This song surely will become a favourite of B and C Centre Audience.
5. THEME OF GAUTAM NANDA :
Last but not Least, Gautham Nandha album has a theme song too and Thaman has nailed it. The Theme has very catchy music and the lyrics "Dhanam Moolam Idham Jagath" has taken it to whole new level. You can expect this theme in key scenes of the movie and it will surely increase the look and feel of the scene.
VERDICT :
GAUTHAM NANDA is a complete album which caters to the needs of all sections of the audience and SS THAMAN has done a brilliant work complemented by Superb Lyrics of Ramajogaiah Sastry.
RATING : 3.5/5
Here you guys can read my review of Duvvada Jagannadham Songs: